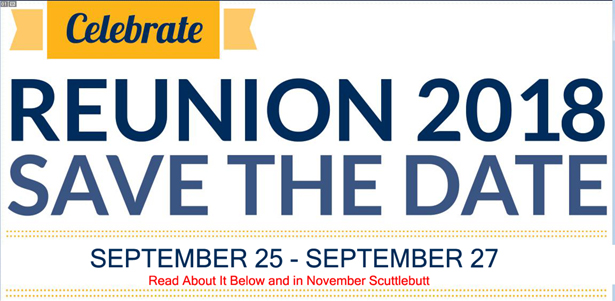 Hello Shipmates;
After much thought, visits, phone calls and e-mails we have decided on when, and where our 2018 reunion will be held. Our reunion will be in Portland, ME during the week of September 25th thru September the 27th of 2018 with checkout on the 28th. These dates were selected because the other dates we were offered were around Labor Day. We felt the weather would still be good at the end of the month.
We will be staying at the Clarion Hotel at 1230 Congress St. The reservations can be made by calling 207-774-5611, telling them you are with the BIBB Shipmates Association. The cost of the rooms are $139.00 plus prevailing city and state taxes. Currently, taxes are at 9%. These prices are quoted for single to quad occupancy. Oh, you will get breakfast each morning with this price. If you opt out of the breakfast, then they will take $10.00 off your nightly stay. I was told this is a hot breakfast.
We are working on information for our Thursday night dinner and will let you know in our January newsletter. Our board and I talked it over and the hotel will serve us Thursday night dinner so we will not have to go anywhere. They offered us a great menu to choose from (menu to follow in January).
The hotel has a shuttle that will pick you up from the airport if you are flying in and offered us the shuttle to go downtown and back for free. We will work out the times later next year.
If you have any question, please call or email me or any of the officers for more information.

Images captured during the April, 2017 Shipmate Reunion – Cape May, New Jersey