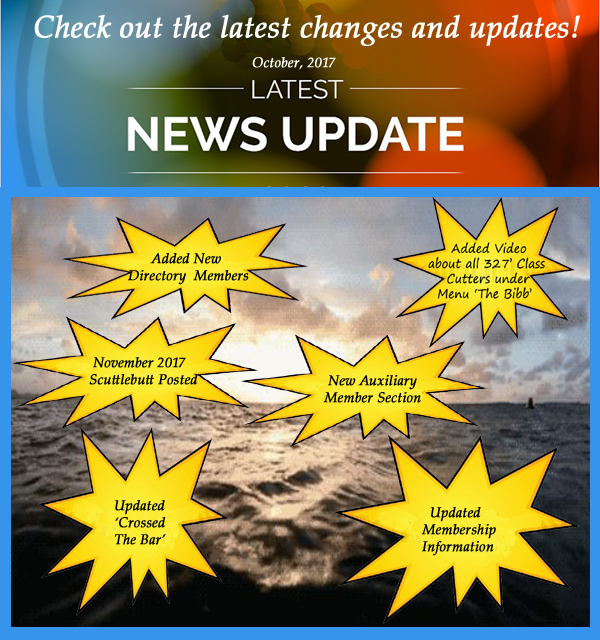 HER NAMESAKE:

George Mortimer Bibb, born on 30 October 1776 in Prince Edward County, Va., graduated from both Hampden-Sidney and Willian and Mary Colleges and then, after studying law in the office of Richard Venable, was admitted to the Virginia Bar. He moved to Lexington, Ky., in 1798 and soon achieved a position of distinction and leadership there, in politics and in his profession. Appointed to the Kentucky Court of Appeals in 1808, he became its chief justice in the following year but resigned in 1810 and was sent to the United States Senate in 1811. Although a leader of the successful "War Hawk" faction in Congress, Bibb resigned from the Senate in 1814, before the end of the War of 1812, and returned to Kentucky. Residing at Frankfort, he turned his attention back to law and state politics.
After more than a decade of comparative retirement from the national scene, Bibb returned to the United States Senate in 1828 as a strong supporter of Andrew Jackson. However, since this six year stint in Congress left him disenchanted with "Old Hickory's" leadership, he did not stand for reelection, but returned to Kentucky at the end of his term to become Chancellor of the Louisville Court of Chancery.
In 1844, Bibb became Secretary of the Treasury under President John Tyler. He left office on 4 March 1845 when President James K. Polk was inaugurated, but stayed in the national capital practicing law until he died there on 14 April 1859.
=====================================================================

SPECIFICATIONS
The "Treasury" class Coast Guard cutters (sometimes referred to as the "Secretary" or 327-foot class) were all named for former secretaries of the Treasury Department. 
Radio Call Sign: NRDB
Cost:  $2,468,460.00
Keel Laid:  15 August 1935
Launched:  14 January 1937
Commissioned: 10 March 1937
Decommissioned: 30 September 1985
Disposition: Sunk as an artificial reef off the Florida Keys on 28 November 1987
Builder: Charleston Navy Yard, Philadelphia, PA
Displacement: 2,350 (1936)
Length: 327′ 0″
Beam: 41′ 0″
Draft: 12′ 6″ (max.)
Propulsion: 2 x Westinghouse double-reduction geared turbines; 2 x Babcock & Wilcox sectional express, air-encased, 400 psi, 200° superheat
SHP: 5,250 (total)
Maximum Speed: 19.5 knots
Cruising: 13.0 knots, 7,000 mile range
Complement:  1937: 12 officers, 4 warrants, 107 enlisted;
1941: 16 officers, 5 warrants, 202 enlisted;
1966: 10 officers, 3 warrants, 133 enlisted.
Electronics:
HF/DF: (1943)
Radar: (1945) SK, SG-1; (1966) AN/SPS-29D, AN/SPA-52.
Fire Control Radar: (1945) Mk-26; (1966) Mk-26 MOD 4
Sonar: (1945) QC series; (1966) SQS-11
Armament:
1936: 3 x 5″/51 (single); 2 x 6-pounders.; 1 x 1-pounder.
1941: 1 x 5″/51 (single mount); 3 x 3″/50 (single mounts); 2 (?) x .50 caliber Browning MG; 2 x depth charge racks; 1 x "Y" gun depth charge projector.
1943: 2 x 5″/51 (single mount); 4 x 3″/50 (single mounts); 2 x 20mm/80 (single); 1 x Hedgehog; 2 (?) x "K" gun depth charge projectors; 2 x depth charge racks.
1945: 2 x 5″/38 (single); 3 x 40mm/60 (twin); 4 x 20mm/80 (single).
1946: 1 x 5″/38 (single); 1 x 40mm;/60 (twin); 2 x 20mm/80 (single); 1 x Hedgehog.
1966: 1 x 5″/38 (single); MK 52 MOD 3 director; 1 x 10-1 Hedgehog; 2 x (P&S) Mk 32 MOD 5 TT, 4 x MK 44 MOD 1 torpedoes; 2 x .50 cal. MK-2 Browning MG, 2 x MK-13 high altitude parachute flare mortars.
Aircraft: Curtiss SOC-4, USCG No. V172 (1937-1938)
Grumman JF-2, USCG No. V146 (1939-)
The 327-foot cutters were designed to meet changing missions of the service as it emerged from the Prohibition era.  Because the air passenger trade was expanding both at home and overseas, the Coast Guard believed that cutter-based aircraft would be essential for future high-seas search and rescue.  Also, during the mid-1930's, narcotics smuggling, mostly opium, was on the increase, and long-legged, fairly fast cutters were needed to curtail it.  The 327's were an attempt to develop a 20-knot cutter capable of carrying an airplane in a hangar. 
The final 327-foot design was based on the Erie-class Navy gunboats; the machinery plant and hull below the waterline were identical.  This standardization saved money–always paramount in the Coast Guard's considerations–and the cutters were built in U.S. Navy shipbuilding yards.  Thirty-two preliminary designs of a modified Erie-class gunboat were drawn up before one was finally selected.  The healthy sheer forward and the high slope in the deck in the wardrooms was known as the "Hunnewell Hump."  Commander (Constructor) F. G. Hunnewell, USCG, was the head of the Coast Guard's Construction and Repair Department at that time.
The Treasury class cutters proved to be highly dependable, versatile and long-lived warships–most served their country for over 40 years.  In the words of one naval historian, John M. Waters, Jr., they were truly their nation's "maritime workhorses."  Waters continued: "the 327's battled, through the 'Bloody Winter' of 1942-43 in the North Atlantic–fighting off German U-boats and rescuing survivors from torpedoed convoy ships.  They went on to serve as amphibious task force flagships, as search-and-rescue (SAR) ships during the Korean War, on weather patrol, and as naval gunfire support ships during Vietnam.  Most recently, these ships-that-wouldn't-die have done duty in fisheries patrol and drug interdiction.  .  .Built for only $2.5 million each, in terms of cost effectiveness we may never see the likes of these cutters again."
---
USS George M. Bibb (WPG-31); "Geo. M. Bibb, Looking aft from bow, Norfolk Navy Yard, Portsmouth, VA."; Photo No. 2057(41); 27 October 1941; photographer unknown (copy of photo provided to USCG Historian's Office by J. D. Hooper, USCG).
Here Bibb undergoes conversion for combat as an anti-submarine warship and convoy escort in October, 1941.  Modifications included the removal of one of her 5-inch 50 caliber main batteries, the addition of a total of four 3-inch 50 caliber dual-purpose batteries, lighter anti-aircraft armament (including 20mm cannons and .50 caliber machine guns), "Y" gun depth charge projectors, two depth charge tracks at the stern and at some point in the coming months, a British-made high-frequency direction finder (known as HF/DF or "Huff-Duff"), and a surface search radar set.
Bibb was under the command of Commander Roy L. Raney during the convoy battles to come.  He, like the other officers who commanded these cutters, knew his business.  A former officer on board Bibb, Captain Henry C. Keene, Jr., noted:
"Raney was a leader.  Men felt it the minute he took command and there was not a man on the ship who would not go the extra mile for the old man.  The confidence the crew had in their captain seemed to be reflected in his pride and confidence in his crew."
The same could be said of the other Secretary Class cutters, their officers, and their crews.  All were experienced seamen who were prepared to carry the war directly to the U-boats although their training in fighting submarines was scarce to non-existent.  
This photo provides a good view of her forward 5-inch 51-caliber main battery–the one in the foreground, mounted on the main deck, was removed and replaced with a 3-inch 50 caliber dual-purpose battery.
---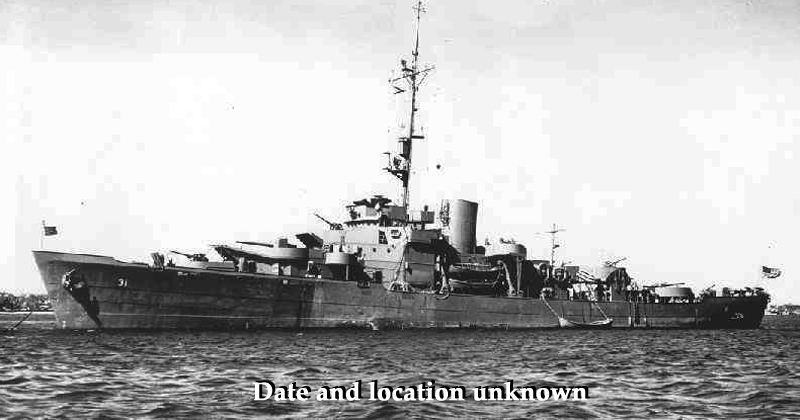 USS Bibb, CG (WPG-31);
Bibb made history after a wolf pack attacked the eastbound convoy SC-118. The cutters Bibb and Ingham were temporarily attached to a British escort force for SC-118's trans-Atlantic journey. It was fortunate for the passengers and crew of the troopship SS Henry Mallory that the Bibb and Ingham were there.  On 7 February 1943, the U-402 torpedoed the Mallory as it straggled behind the convoy. The passengers panicked and leapt overboard. Those who did not make it into a life raft died from hypothermia.  Lookouts aboard the Bibb sighted one of the Mallory's lifeboats and, disobeying an order to return to the convoy, the Bibb's commanding officer, CDR Roy Raney, ordered his cutter to begin rescuing survivors.
Many of the Bibb's crewmen leapt into the water to assist the nearly frozen survivors, and the cutter Ingham assisted. One of the Ingham's crew described the scene, a dreadfully common one along the North Atlantic that year:
"I never saw anything like it, wood all over the place and bodies in life jackets … never saw so many dead fellows in my whole life. Saw lots of mail bags, boxes, wood, wood splinters, empty life jackets, oars, upturned boats, empty life rafts, bodies, parts of bodies, clothes, cork, and a million other things that ships have in them. I hope I never see another drowned man as long as I live."
Although many of the Mallory's 498 passengers and crew died from hypothermia, the Bibb's crew pulled 202 survivors from the frigid water, while the Ingham's crew saved 33. The Bibb rescued 33 more people from the nearby torpedoed freighter S.S. Kalliopi before returning to the convoy.
---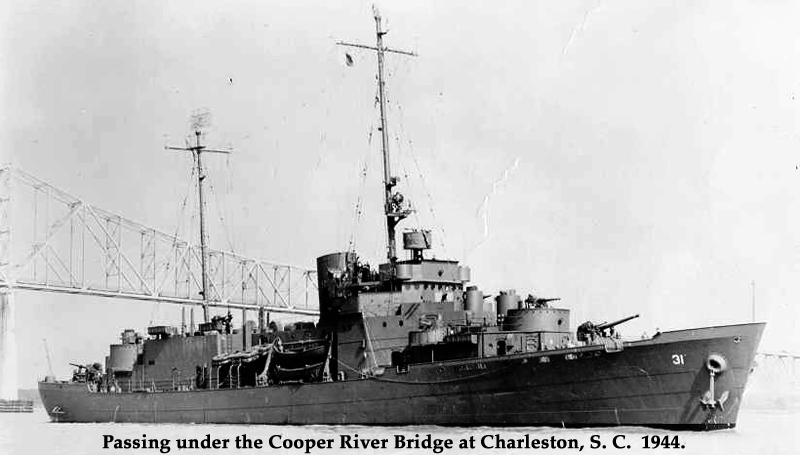 USS Bibb, CG (WAGC-31); "U.S.C.G.C. BIBB (C.G. 71 — W. 31),
With the decrease in the threat by U-boats by 1944 and the increase in the number of available Allied escort vessels, the Navy determined that the 327s would better serve the national security needs of the nation as command and control vessels [known as AGCs] for amphibious landings.  The conversion to AGCs consisted of the removal of most of their heavy armament, the addition of more anti-aircraft weaponry, and the construction of enclosed rooms for the addition of 35 radio receivers and 25 radio transmitters.  
After conversion to an AGC, done in the Charleston Navy Yard between 17 October 1944 and 29 January 1945, Bibb was assigned to duty in the Pacific.  From April to August of 1945 she participated in the assault on Okinawa, surviving numerous kamikaze attacks.  There she served as the flagship for Commander, Mine Craft, Pacific Fleet. She received credit for the destruction of one Japanese aircraft.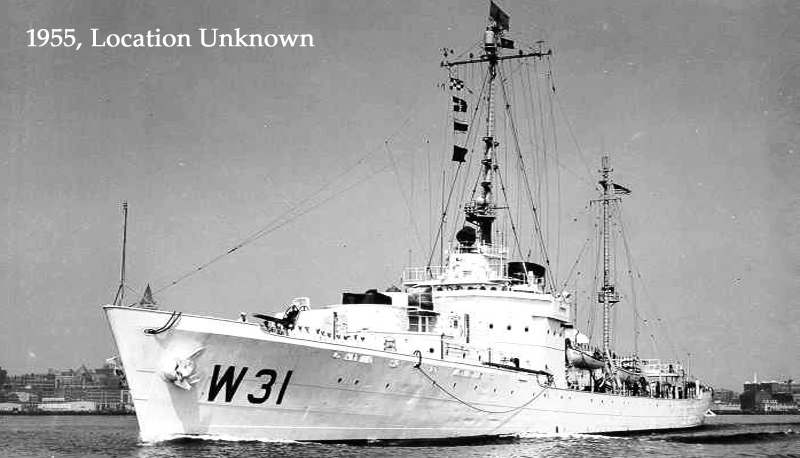 Bibb, 1955.  At the end of World War II, each Secretary Class cutter was returned to her peace-time makeup.  Most of the armament was removed, except for the addition of a 40mm anti-aircraft battery, a 5-inch 38 caliber main battery and "mousetrap" anti-submarine armament.  From 1946 to 1973, Bibb was stationed at Boston.  
---
Bibb after the addition of her new Coast Guard "racing stripe."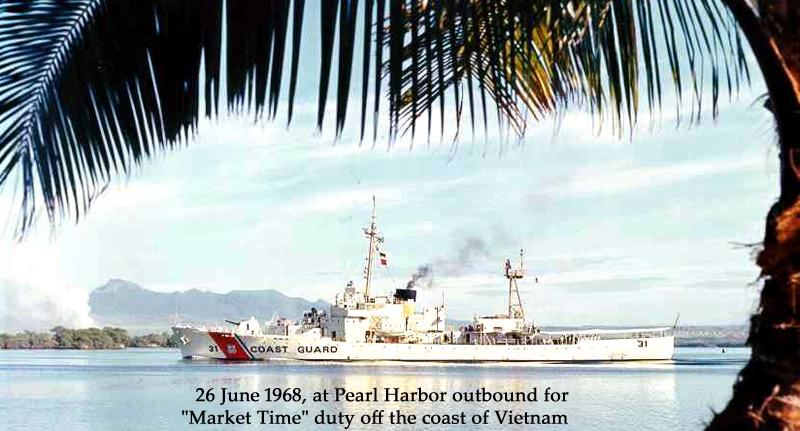 ---
"Pearl Harbor, Hawaii. . .The U.S. Coast Guard Gunboat Bibb (WPG-31) departs Pearl Harbor.";
The Bibb departs for duty in Vietnamese waters, where she served from 4 July 1968 to 28 February
1969 with Coast Guard Squadron One.
"HEADED FOR HOME. . . One of USCGC BIBB'S (WHEC-31) small boats heads for BIBB with the survivors of a stricken supply boat. . .Search and Rescue at its best.";